Runners to 'inspire' schoolchildren with South America adventure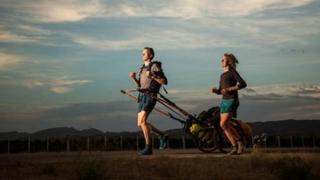 A Devon husband and wife who completed the adventure of a lifetime by running the length of South America now hope to use their experiences to inspire schoolchildren.
Katharine and David Lowrie, who live near Exeter, began their 6,400-mile journey at the southern-most point of the continent on 28 July 2012.
It ended on 20 October this year when they reached the Caribbean Sea on Venezuela's northern coast.
Their challenge, named the 5,000 mile project, could mean they are the first couple to run the length of the continent and involved running almost every day for 15 months.
The journey took them through Chile, Argentina, Bolivia, Brazil and Venezuela, and has raised more than £6,000 for conservation charities.
"It was a really long way, about 1,500 miles more than we expected, so that was a real shock, but it gave us the chance to pass through the cold areas in the south, with the glaciers and high winds, and then we spent a lot of time in the jungle as well," said Mr Lowrie who is originally from Northumberland.
The couple, who are not professional runners, took turns to pull the trailer containing their gear six days a week.
"It was a bit of a crazy thing to have done, but both of us love the natural world, we're passionate about it, and we wanted an adventure and we wanted to do something no-one else had done before," Mrs Lowrie said.
'Snakes and spiders'
While in South America the couple attended a number of schools to talk about their adventure and conserving the natural world - work which they are continuing back in the UK.
"The big job now is really around schools, so we're visiting schools in Devon and Northumberland to chat to the kids about what we've seen, what they are teaching in schools, and what we can bring to that, so that's kind of fun showing them snakes and spiders," Mr Lowrie said.
The charity money will go to Birdlife International and Asociacion Armonia and Conservacion Patagonica.
"We also wanted to raise some money for conservation charities out there and we also wanted to inspire environmental action," Mrs Lowrie said.
"It's about looking at all the the small things we can do and how everybody, if they have a dream and an ambition, they can do it, you just have to tick it off piece by piece."