Bantham village and surfing beach to be sold for £10m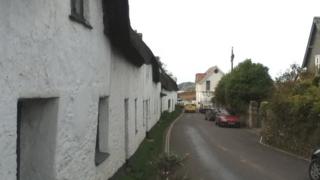 An entire seaside village and one of the most popular surfing beaches in Devon is being sold.
The Evans Estate owns the land and buildings at Bantham near Kingsbridge.
Residents were told last week by letter that the village would go on the market next spring. The estate refused to confirm the asking price, which is widely reported as being £10m.
The estate is privately-run and has been in the possession of the same family for several generations.
Residents and those who work on the estate said the sale of the 750 acres of land would be the "end of an era".
Tim Hunt, who lives in the village, said: "What is so special is that it has not been commercialised and the estate owners have looked after it as if it has been their back garden."
'Unchanging charm'
Estate manager, Ryan Hooper, added: "They have loved and nurtured this place diligently for the last three generations. It is very sad, it is the end of an era.
"Their ethos has always been to keep young, local, families in the village and that is what they have achieved by keeping it a living-working village."
Rosemary Jeffrey, 79, was born in Bantham - which has more than 40 homes, a pub, a harbour and a shop - and said it would be full of second homes were it not for the Evans Estate.
"There is a wonderful community here and we're all understandably concerned about the future," she said.
The estate's website says the ethos for Bantham was to allow it to remain a place of outstanding beauty, with the thatched cottages portraying an image of "unchanging charm" and the beach and surrounds staying as "wild and natural" as possible.
Surfer Lee Haley, from Totnes, said: "This place is amazing as it is. Newquay has been ruined by development and it would be a shame if this went the same way."
James Baker of estate agents Strutt and Parker, which is handling the sale, said the directors of the estate want to sell to someone who would "preserve the beauty and tranquillity that everyone enjoys at Bantham".