Woman charged after car collides with man in Plymouth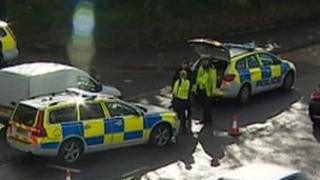 A woman has been charged with grievous bodily harm and dangerous driving after a car collided with a man in Plymouth.
The pedestrian was injured in Outland Road at 11:30 GMT on Saturday.
The man was taken to the city's Derriford Hospital but his injuries were not believed to be life-threatening, police said.
Fiona Frost, 43, of Taunton Avenue, Plymouth, appeared before city magistrates, who referred the case to Crown Court.
She was released on conditional bail and is due to appear at the Crown Court on 2 December.
Outland Road was closed for five hours.