Barnstaple door staff patrols 'could be extended'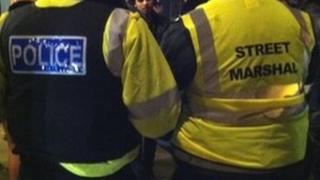 A scheme using nightclub door staff patrols to prevent violent disorder may be extended to other areas of Devon, a police officer says.
The street marshals monitor Queen Street in Barnstaple after club closing times at the weekend.
PC Paul Daw, neighbourhood beat manager from Devon and Cornwall Police, said they hoped to build on what had become a "very successful" scheme.
The current pilot scheme runs until 2 January.
Marshals 'vetted'
The cost is being split between the Fevers Boutique club and North Devon Council.
An estimated 800 people attend the club on Thursdays, Fridays and Saturdays.
The marshals monitor takeaway and taxi queues between 03:00-04:00 to stop any trouble from escalating once clubs have shut.
They have no arrest powers but do have radio communication with the police.
PC Daw said: "The marshals have been dealing with low-level arguments and minor things like that - things that police are not necessarily best placed to deal with.
"But, if it does develop beyond that, they can call officers in.
"For me, it has been a success. I can see it being extended in the new year."
The pilot scheme is due to run until 2 January after which a decision will be made about whether the scheme could be extended to other areas of the county.