Calls for 20mph speed limit on Torbay street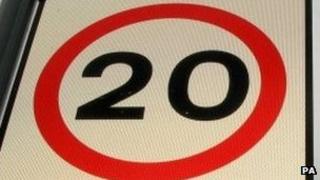 Residents in a street in Torbay have called for its speed limit to be reduced to 20mph, saying a council is not taking their concerns seriously.
People in Paignton said lives are at risk on the "dangerous" Preston Down Road.
Part of the road only has pavement on one side and there is a hairpin bend.
Councillor Chris Lewis said Torbay Council had listened, but that speed checks in the area had shown most drivers were keeping to the limit.
'Time bomb'
The road currently has a 30mph limit and has featured in Torbay Council's "30 for a reason" speed awareness campaigns.
Campaigner Jason McNally said a 30-degree gradient and cars parking along one side, creating a blind spot, added to the concerns.
He said: "It's a time bomb. It's only a matter of time before somebody gets killed or seriously injured crossing the street."
Mr Lewis, who represents the Preston area, admitted "you do get the odd person speeding".
He said he would ask police about setting up temporary speed traps.