New Plymouth roads to be named after armed forces' fallen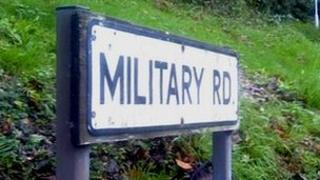 New roads in Plymouth can be named after members of the armed forces who lost their lives while serving.
Plymouth City Council said it had adjusted its street naming policy so local service personnel could be commemorated in this way.
Nominees had to have lost their lives in service of the nation since 1914 and have "demonstrable personal connection with Plymouth", it said.
The families of the deceased also had to approve, it added.
'None more deserving'
The council said street names were most commonly suggested by developers when new roads were built, but they often asked for help from the council's street naming team.
Councillor Chris Penberthy said: "When naming new streets, we try to reflect the local history or commemorate key people who have had a special link with that area.
"There can be no men or women more deserving of this honour than those who have made the ultimate sacrifice for their country.
"This is a poignant and long-lasting way for communities to remember their fallen heroes and pay tribute to their bravery."
The city is proud of its military links.
It is home to Devonport Naval Base, the largest navy base in Western Europe. It is also base city for the headquarters of the Royal Marines' 3 Commando Brigade and the Army's 29 Commando Royal Artillery regiment.