No monkey business as gorilla statue auction raises £100,000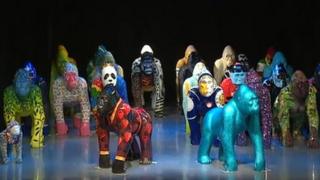 Twenty-nine decorated gorilla statues created for Devon's Paignton Zoo have raised £100,000 at auction.
The statues were on show across Torbay and Exeter to highlight the plight of the Cross River gorilla - Africa's most critically endangered.
The highest bid for a single gorilla was £5,300.
A total of £99,800 in bids was topped up by a £200 donation to support conservation work and Children's Hospice South West, the zoo said.
'Amazing project'
Thirty full-size gorillas formed the Great Gorilla art trail project on Devon streets and in parks for 10 weeks over the summer. Nineteen could be seen around Torbay and 11 in Exeter.
The project, celebrating Paignton Zoo's 90th birthday, saw the statues sponsored by businesses and community groups, painted in original designs by specially-commissioned artists and displayed in public.
At the auction at Paignton's Palace Theatre on Wednesday evening, 27 of the life-size artworks and two smaller models - described as medium-sized gorillas - were sold, with winning bids ranging from £1,400 to £5,300.
One of the gorillas - Five Minutes to Midnight - was sold in aid of Children's Hospice South West, raising £4,000.
Pippa Craddock, from Paignton Zoo, said: "This is an amazing total wrapping up an amazing project in great style."
Three full-sized gorillas were not included in the auction. One had been pre-purchased, another was to go on display in public places around Torbay, and the last would stay at Paignton Zoo, staff said.
Fewer than 300 Cross Rivera gorillas remain in the wild. It is the most endangered African ape, ranking among the world's 25 most endangered primate species, the zoo said.