Exeter Cathedral archive facility shows historical cat payment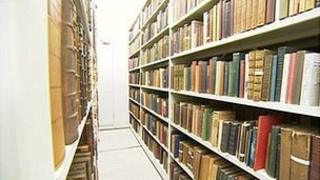 A new centre has opened to keep all of Exeter Cathedral's archive materials.
The purpose-built facility, in the west wing of the Bishop's Palace, houses more than 70,000 books and documents, some dating back over 1,000 years.
Items in the collection include the cathedral's charter, from 1050, and a 15th Century record of a penny-a-week payment made to the cathedral's cat.
It is the first time the archives have been in a single location that can be accessed by scholars and the public.
The collection officially started in 1072 when the first bishop of Exeter, Bishop Leofric, died and bequeathed 70 books.
'Life of a nation'
Over the years the collection has been spread across several locations, including above the cathedral refectory, in its library, with some pieces housed in the city's university.
One of the most famous works in the collection is the Exeter Book - a 131-page tome from the 10th Century that is among the earliest examples of English language poetry.
The Dean of Exeter, the Very Reverend Jonathan Draper, said the archive told more than just the history of the cathedral.
Dr Draper said: "The really interesting thing for me is that it is not only the life of the cathedral, but also the life of the city.
"And these are documents, given to us by kings from time to time, so it's about the life of a nation as well."