Cost of Plymouth's former Palace Theatre repairs £10m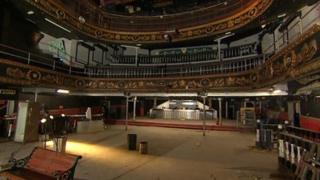 A former theatre described as one of the most endangered Victorian buildings in England will cost £10m to refurbish.
The Palace Project Ltd - a not-for-profit company - started restoring the Palace Theatre on Union Street, in Plymouth, last year.
After a year of work, the 1898-built listed theatre is finally watertight.
In its heyday, acts including Charlie Chaplin, Laurel and Hardy and Morecambe and Wise trod the boards.
The Victorian Society said the Palace Theatre had suffered years of misuse following its closure in 2006 as the Dance Academy nightclub, adding that it was one of the most endangered buildings in England.
Water cascading
Dave Welsh, a co-director of the Plymouth Palace Project Ltd and the building's lease owner, said they were now looking to raise up to £10m to refurbish the whole building and to buy its freehold.
"The vision is to turn this into a community theatre, where everybody can come, no matter whether it is an afternoon tea dance, or to come and see a show or a band," he said.
"Anything the community wants to get involved with, we'll try to make sure it gets put on."
Mr Welsh hopes that the not-for-profit company will be able to attract funding from organisations such as English Heritage or from the National Lottery.
He is also hoping to use social media to raise funds and attract volunteers to help with the project.
"We have lots of people coming onto the Facebook page we set up asking how they can get involved," Mr Welsh said.
"We had an old lady come in and say 'I'm no good at anything, but I can use a broom' and she carried on sweeping up, bless her, good as gold. That's the sort of thing, the community is coming to get behind it."
Mr Welsh, who was convicted in 2009 of defrauding the NHS - a charge he has always denied - said he has been confronted about whether his past could affect the project.
"Someone said to me, 'what's going on, you're a criminal' and I said, 'ok, I'll resign, I'll walk away, you get somebody to take over my place and do the job' but nobody has stepped up to do it yet, so in the meantime, I'm still here, I'm still working," he said.
"Judge me by my results. The work is getting done."
Mr Welsh admitted that when he walked through the door for the first time, he was hit by the size of the project.
"It was a bit daunting, a bit like a bomb site, everything was wet, everything was slippery," he said.
"Water was cascading through the building and there was rubble on the floor where people had moved in here and dozed, it was just like one big rubbish tip.
"It was a matter of looking at it and thinking: 'Right, can we do it? Yes, we can. Go and do it."