Artists to move into Royal William yard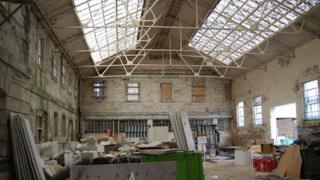 A former Navy building is to be converted into studios for artists in a £3.2m makeover.
Spaces for 100 artists will be built at the Royal William Yard in Plymouth after the project won more than £2m of European funding.
The offer from the Local Enterprise Partnership (LEP) will unlock £800,000 from Plymouth City Council.
Ocean Studios said the scheme would lead to more than 100 new jobs and safeguard a further 40.
The studios at the former cooperage are designed to encourage talented graduates from Plymouth University and Plymouth College of Art to stay in the city.
'Fantastic project'
The LEP awarded Ocean Studios £2,026,315 from the European Regional Development Fund (ERDF).
The rest of the funding will come from the city council, English Heritage and others.
Leigh Mason, business development director of Ocean Studios said: "Ocean Studios will be of national and regional significance and unlock economic and cultural value for decades to come."
Tudor Evans, leader of Plymouth City Council called it a "fantastic project" and said the creative sector was a "key priority sector for the city's economy".
Chris Garcia, chief executive of the Heart of the South West LEP said the studios would bring "much needed space and support to the creative sector in Plymouth".
The Royal William Yard was closed as a Navy victualling centre in 1992 and much of it has since been converted into flats, restaurants and bars.