East Devon District Council holds 'seagull summit'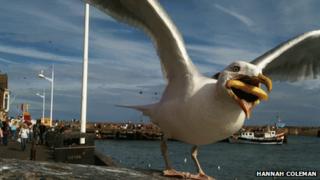 A "seagull summit" has been held to help businesses and residents affected by the birds.
The gulls snatch food, nest on rooftops and are an "issue in pretty much every town", East Devon District Council (EDDC) has said.
Businesses and residents are being encouraged to put netting on their roofs and to discourage people from feeding the birds.
The RSPB said people had to "learn to live" with the gulls.
'Aggressive behaviour'
The council said the long hot summer has meant seagulls have been a "particular problem" across the whole district.
Councillor Tom Wright said: "During the summer we've had complaints about aggressive behaviour by seagulls.
"We want to work with local businesses to help them gain a better understanding of what action they can take to reduce the problem."
Companies were advised "not to attract gulls", such as feeding them or leaving rubbish that could be scavenged.
"It's human behaviour which has created the nuisance," he said.
Tony Whitehead, from the RSPB, said: "A lot of the complaints you hear about gulls are about them being a nuisance and being aggressive - [but] it's just learning to live with them.
"For instance, I've seen gulls landing on people who are basically holding sandwiches or pasties in the air and it's literally a red rag to a gull."
Mr Wright said more than 50 people attended the summit including those from local businesses, town councils and some people who supported the seagulls.