Minister in talks on Derriford Hospital A&E 'pressure'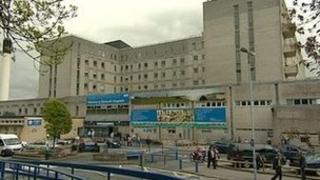 Health Secretary Jeremy Hunt has agreed to hold talks over easing waiting times at Devon's biggest hospital.
Plymouth MP Oliver Colvile told him Derriford's accident and emergency unit was "under pressure" from late night patients and pharmacists could help.
Patients welcomed the move, saying feedback on the hospital's A&E department was "mixed".
The hospital said its waiting times were improving after a rise last winter.
Conservative member Mr Colvile was speaking in a debate in the House of Commons when Mr Hunt said he would be "more than happy to meet him".
Mr Colvile said afterwards: "The issue is that we have a night-time economy and there has been a tendency to have a lot of people putting pressure on the accident and emergency unit."
Black alert
According to the hospital's figures, in the year up to August the A&E department was seeing 96.5% of patients within the government's four hour target, up from 91.7% in April.
But figures for 2011/12 show waiting times at A&E varied from an average of about 180 minutes at midnight to 130 minutes at 08:00.
And in March the hospital went on "black alert" after a higher than expected number of emergency admissions.
David Brown, manager for medicine for Plymouth Hospitals NHS Trust, said: "For the year overall, we are achieving greater than 95% and we are confident on being in a stronger position for this winter, than we have in previous years."
'Good care'
Mr Colvile suggested that pharmacies could help relieve the pressure after the Royal Pharmaceutical Society said about 8% of A&E patients could be treated by them.
That would mean a reduction at Derriford, which gets about 90,000 A&E patients a year, of more than 7,000 patients.
Spokesman Neal Patel, from the society, said: "We could help with common ailments such as cold and flu.
"It is all about making sure we use NHS resources effectively.
"We want the public to see pharmacists as the first point of call."
Patients' watchdog Healthwatch Plymouth said: "We have received mixed feedback to date in relation to patient experiences in A&E in Plymouth.
"Any negative experiences patients have told us about have mainly related to patients feeling A&E waiting times can be too long.
"Patients have also commented on the good care they have received from staff in the department."