Family hope to visit Greenpeace detainee Kieron Bryan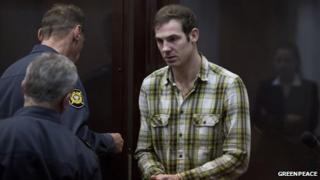 The family of a British journalist detained after Russian security forces boarded a Greenpeace ship are planning to fly out to visit him.
Video journalist Kieron Bryan, 29, was among 30 people arrested on the boat Arctic Sunrise at an offshore oil drilling rig on 18 September.
His father Andy Bryan, from Devon, said he hopes to travel to Russia "in the next couple of weeks".
Kieron, from London, has been charged with hooliganism following the protest.
'Tremendous boost'
Mr Bryan, who is from Shebbear, said: "There is a limit to the number of calls he can make.
"Myself and Russell - my other son - are actually hoping to travel out to see Kieron hopefully in the next couple of weeks. We're in the process of getting visas sorted.
"Obviously that would be a tremendous boost for both us and Kieron."
The group of 30 were originally charged with piracy, but Russian authorities dropped the charges last week replacing them with hooliganism charges.
Mr Bryan said: "The maximum sentence is still seven years for hooliganism and clearly we don't believe that Kieron is a hooligan."
Greenpeace denies any wrongdoing and is calling for the release of the detainees - who come from 18 countries - and the Arctic Sunrise.
Kieron is one of three people with links to Devon who are currently being held in Russia.
Eleven Nobel prize-winners have since written to the Russian President Vladimir Putin urging him to drop the charges of piracy.
On Monday the Netherlands took the case of the Dutch-flagged ship and its crew to the UN tribunal based in Hamburg which adjudicates on disputes arising out of the UN Convention on the Law of the Sea.
Earlier, the Russian foreign ministry released a statement pointing out that Moscow had opted out of UN Law of the Sea dispute procedures in 1997.