Plymouth City Council reviews road shrine limits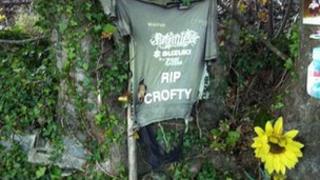 Plymouth City Council is proposing a 13-month limit on roadside memorials.
Councillors will discuss the idea at a meeting next week as they look at how to manage the large shrines families put up after a death.
The council is concerned tributes could be a distraction for drivers and become an eyesore if they are left
Supporters of memorials said they were very important to family and friends.
'Not neglected'
Jane and Keith Croft from Plympton, who lost their son Michael Croft in a road collision 18 months ago, have a shrine for him by the roadside.
Mrs Croft said: "For his many friends, this is where they come to think about him and show their respects.
"It's not neglected... I fail to see how any of this is a distraction.
"We would hope that if it saves one life, then we're doing some good in Mike's name."
Councillor Brian Vincent, the cabinet member for environment at Plymouth City Council, said: "I can fully understand people's emotions with the loss of a loved one.
"But we have to look at everyone's views on this and try to draw up a happy medium, and put in criteria that need to be followed by everyone."