Apology after police called to teenager's stately home party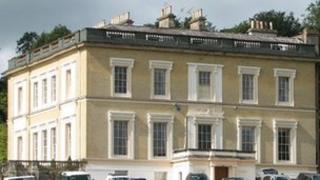 A baronet's granddaughter has apologised to residents living near her family's stately home after police were called to an 18th birthday party.
Jessica Kennaway's party at Escot House in Devon could be heard a mile away in the village of Feniton on Sunday.
Police went to the 220 acre estate near Ottery St Mary at 04:00 GMT to tell her to turn the music down.
Miss Kennaway, 18, apologised to local people about the "unacceptable level" of noise.
'Full apology'
Devon and Cornwall Police said "strong words of advice were given" and the "music was turned down at the time".
The party also led to complaints to East Devon District Council's environmental health department about the noise.
A council spokesman confirmed that it had recommended a full apology was made to the complainants and that greater care was taken in future over private, unlicensed events.
Miss Kennaway, the granddaughter of Sir John Lawrence Kennaway, the 5th Baronet Kennaway of Escot, said she threw the private outdoor party as a joint celebration marking a friend's 18th birthday and her going away.
She said in a statement: "During the course of the night, as everyone became absorbed in the party atmosphere, what started as an acceptable volume level must have crept up.
"When the police alerted us to this fact, the music was turned down immediately.
"I would like to apologise to local residents for not realising that the volume had reached an unacceptable level and, therefore, for disturbing their Sunday morning."
The Grade-II listed Escot House was designed by architect Henry Roberts in 1838.
The famous English landscape artist Capability Brown was responsible for designing the surrounding park.
The gardens are open to the public and outdoor music and theatre performances are occasionally held there.
The estate is run by Miss Kennaway's parents. Her father, John Michael Kennaway, will inherit the baronetcy upon his father's death.