'Day of the Dead' commemorated at Exeter conference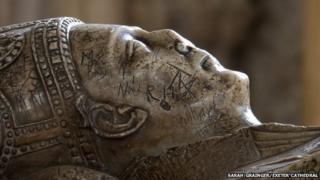 Body parts made of wax found in Exeter Cathedral will be discussed at a conference to commemorate the "Day of the Dead", also known as All Souls Day.
Christian churches and cathedrals use 2 November to honour and remember the dead.
The conference was arranged by the University of Exeter, where academics have been researching the history of tombs and commemoration.
The wax figurines were probably hidden during the 16th Century Reformation.
'Ugly and broken'
Protestant reformers who condemned the "idolatry" of the-then Catholic church ripped out altars and shrines in churches across Britain, smashed stained glass windows and damaged tombs.
"The reformers who smashed up so-called 'idols' didn't want to destroy them completely," Professor Philip Schwyzer said.
"They wanted to leave something left over, something ugly and broken, so later generations would remember what they had done.
"They made [Exeter] cathedral into a memorial to their own destructive rage."
The wax figures were discovered in the stonework above the tomb of Bishop Edmund Lacy during World War II when routine checks for bomb damage were being carried out.
Dr Naomi Howell, an English lecturer at the university, said in Medieval England people would pray to saints requesting healing and would leave "offerings" beside a saint's relics.
"As Exeter doesn't have any relics, it is thought that worshipers focused on the tomb of Bishop Lacy who was alleged to be saint-like.
"Doll-sized hands, feet, ears and arms were created from wax and placed on his tomb as part of a prayer to heal that particular area of the body."
Dr Howell said the miniature wax body parts were "a unique find".
Continuing rituals
"Nothing else like this exists, as it is likely that they would have been destroyed by church authorities, who considered the figurines dating back to pagan rituals and therefore frowned upon," she said.
"What it says about people at the time is that they used objects as a way of speaking with the dead and such rituals continue today in the form of flowers, cards and other offerings to the dead."
The university project, which covers the period from the Middle Ages to the present day, is being funded by Leverhulme Trust and European Research.
Researchers have also discovered that in the Middle Ages, Cathedral Green in Exeter was the city's main graveyard and the remains of tens of thousands of corpses lie under the area where people now walk and picnic.