Extreme weather 'doubles' Dartmoor National Park costs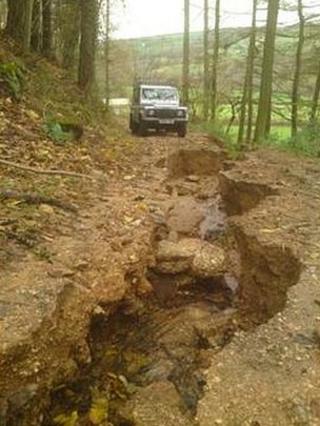 Extreme storms that destroyed footpaths and bridleways across Dartmoor have doubled the cost of the annual repairs for the park authority.
Torrential rain left 40 routes in a poor or dangerous condition across the moor.
The Dartmoor National Park Authority (DNPA) normally spends almost £50,000 on maintaining almost 450 miles (724km) of paths each year.
But, almost £47,000 of extra money was needed following the damage.
Head ranger Rob Steemson said the additional funding was "essential".
The extra money came from Devon County Council's flood recovery fund after an emergency bid was made following the storms last year.
'Weather window'
Torrential rain in summer 2012 caused some damage but the floods in November and December resulted in "washed-out paths" across the moor, including at Moretonhampstead, Mary Tavy and Chagford.
The Met Office said 2012 was the second wettest year on record in the UK.
The total rainfall for the UK was 1,330.mm (52.4in), just 6.6mm short of the record set in 2000.
Mr Steemson said about £30,000 of the additional money had been allocated to repairing paths following the December floods.
He said: "The biggest challenge now, is finding a suitable 'weather window' when ground conditions will enable contractors to get on site to complete the repairs.
"We use local contractors who have been trained by ourselves over the years and they have learnt many traditional skills.
"Whatever we do it has to be sympathetic and fit in to the landscape we work in."
He added the repairs included resurfacing, cobbling, creating new drainage ditches, restoring hedge banks and walls.
Annually, more than two million people visit the national park.