North Devon fisherman culture project secures grant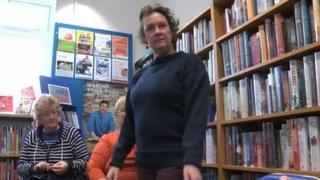 A project to celebrate the heritage and culture of local fishing communities in north Devon secures £63,000 of grants.
The Museum of Barnstaple and North Devon's Fishing for History project, aims to keep the skills and traditions alive to create a knitted jumper specific to the region.
The fishing jerseys, known as the Appledore frock, were individually made to keep local fishermen warm.
Each Appledore frock was made from a pattern specific to the area,
'Unique banding'
Knitting teacher Josie Sims said: "Old ladies would sit next to each knitting away and tell a good tale.
"The sad side was that, if a seaman drowned, they could tell where he came from by his jumper and he could be identified."
Project coordinator Anita Nathwani said: "It's not just about collections. We look at people's skills and keeping those personal stories and traditions that could be lost through time."
The project aims to create an archive of fishing frock patterns from around the country, she added.
The grant comes from the Marine Management Organisation and the European Fisheries Fund.