Exeter mother's relief as Greenpeace crew charges reduced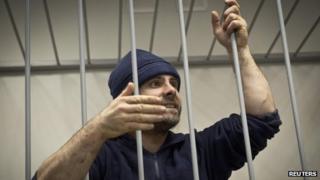 The mother of one of the Greenpeace crew being held in a Russian prison says great progress has been made after charges are reduced.
Russia has dropped piracy charges against 30 Greenpeace crew, replacing them with hooliganism charges, according to officials.
However Sue Turner, whose son Iain Rogers is being held, said he was "no more a hooligan than he is a pirate".
Mrs Turner, from Exeter, said it was important both sides kept talking.
She said: "Initially, I was delighted. But then I thought, 'My son is no more a hooligan than he is a pirate'.
"But, it's a major step forward that the sides are talking to each other. I think great progress has been made today."
Greenpeace's Arctic Sunrise vessel was seized by Russian forces as crew members tried to scale an offshore oil platform.
'Peaceful protest'
All 30 people on board were detained. So far all bail applications in the case have been refused.
Mrs Turner said she has heard from her son for the first time since he was arrested.
She said: "It was lovely to hear his voice. He sounded fine.
"It's been very worrying. I have been emailing him every night. I had no idea if he was getting the messages through, but apparently he was.
"He's sharing a cell with a Russian who is shouting every night. But, he says he would rather be on his own."
Mrs Turner said she understood why the Russians were upset but that it was a "peaceful protest".
She said: "A rap over the knuckles would be fine. They have already done a month in jail. By the time it is cleared up, they would have done at least two months. I think that should be sufficient really.
"It needs to be kept in the spotlight. If people forget about it and they push the hooliganism charges through, they would get seven years in a Russian prison and I don't think that's really fair.
"It's definitely not over yet. The sides need to keep talking until it's resolved."