Avonwick road closure 'affecting business'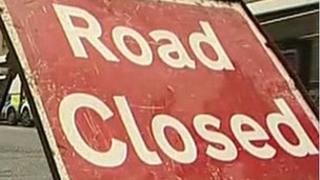 Businesses in a South Devon village say they are struggling because of a major road closure.
The road between Avonwick and the A38 is completely shut for repairs until December.
Shop owners said they were losing £200 a week, and the pub said its takings were down by two thirds.
Devon County Council has apologised for the inconvenience but said the road closure was necessary and it was trying to do the work as quickly as possible.
Gary Needs, the landlord of the Avon Inn, said: "I expected to take enough money to pay the bills. But we're not clearing anything like what's going out."
Karen Needs, the pub's landlady, said: "The road needs to be repaired. We appreciate that.
"We thought we'd ride the storm, but the storm's getting rougher."
Laura Cooper, who co-owns the village shop, said: "Our takings are definitely down, about £200 a week, so there's less people coming in.
"People have been diverted are in a hurry and cross quite often."
In a statement, Devon County Council said: ""We apologise for any inconvenience this is causing but in order to carry out stabilisation works, these closures are absolutely necessary.
"We try to complete this kind of work before the onset of winter as further delays could prompt even more deterioration.
"We will endeavour to open the road as quickly as possible."