Temporary badger sett to help save Devon tennis courts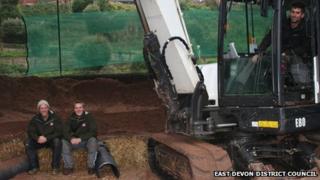 Badgers are to be given a temporary new home in an attempt to stop them damaging public tennis courts.
To prevent the animals burrowing under the courts near Exmouth seafront, a chain-link fence is to be installed under the courts.
But in order to protect the badgers during the work, East Devon District Council is creating an artificial sett.
The £4,000 cost is "considerably less than the five-figure sum" to repair the tennis courts, the council said.
The badgers live on The Maer, a local nature reserve, but their nocturnal activities are undermining the courts and nearby cricket nets.
Natural England is overseeing the operation to move the badgers to their makeshift sett.
Made with straw bales, plywood, roofing felt and topsoil, the sett also has underground chambers created with plastic drainage pipes.
'Ace' idea
A one-way gate will be fitted in the badgers' own tunnels, to divert them from the damaged area to the new artificial sett.
Steve Edmonds, the council's nature conservation officer, said if action was not taken the badgers would continue to colonise the area under the courts and could do "untold damage".
"By moving them out whilst we block their access to the area under the courts, we can ensure that the badgers can continue living in their chosen location without disturbance and without the risk of a big repair bill," he said.
"We agreed the artificial sett idea with Natural England and they will be keeping an eye on each stage of the project as it progresses."
Environment councillor Iain Chubb said the artificial sett was an "ace" idea which would result in a very significant "net saving".