Plymouth flats residents angered by mobility scooter plans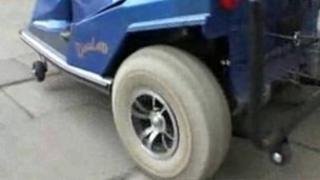 People living in a block of flats in Plymouth say a ban on them keeping their mobility scooters in corridors could leave them housebound.
Plymouth Community Homes has written to residents about the rules, which are being introduced for safety reasons.
Yvonne Ay, who lives in Marlborough House, said the move was like being "put in prison."
In a statement, the firm said the mobility scooters could be stored in tenants' homes instead.
'Fire risk'
Mrs Ay said: "I think people will be cut off which it is totally against our human rights, to take our independence away from us.
"You might as well just put us in prison."
The residents said they had been given less than a fortnight to find somewhere else to keep their scooters.
In its statement, Plymouth Community Homes said: "Mobility scooters can be stored in tenants' homes. We are also looking into the possibility of some alternative safe storage space at Marlborough House.
"We're very happy to speak to residents about the different options and any concerns they may have."
The company said it was concerned scooters stored in communal areas "pose a fire risk and they could affect escape routes".