Bradninch house crash woman 'lucky to survive'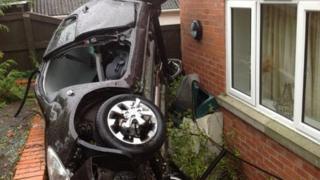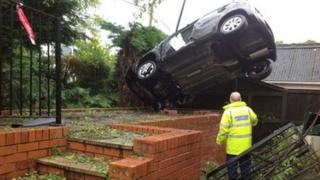 An elderly woman is recovering after the car she was driving narrowly avoided crashing into the front of a house near Exeter.
Firefighters used cutting equipment to release the 80-year-old woman, who was later taken to hospital. Police said she was not seriously injured.
Justine Alecho, who lives in the house in Bradninch, said the car hit a tree before landing by the house window.
The Vauxhall hatchback ended up inches away from the house.
Miss Alecho said: "This woman was coming from the church. As she was driving down the hill, she lost control of the car.
"She hit the tree, came across the fence and landed by the window.
"It's lucky she survived."
The cause of the accident is being investigated.