Devon mobile library services face axe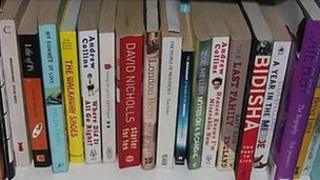 Some Devon communities could lose their mobile library service in council cutbacks.
The county council wants to cut 69 "underused" stops from the service with fewer than three people turning up.
It is also looking at reducing the frequency of the service from fortnightly to every four weeks.
The change would reduce the council's spending by £200,000 a year, contributing to the £110m cuts the council faces over the next four years.
'Absolute lifelines'
The mobile service is used by about 5,100 people in 522 communities around the county.
The Conservative-controlled council has launched a consultation on removing 69 stops from its service, affecting 160 mobile library users.
Those at risk include Bolberry in south Devon, Rose Ash near Tiverton and Murchington near Okehampton.
The remaining 4,900 users could see their frequency reduced from fortnightly to monthly stops, although borrowing times would be changed to reflect a new timetable.
Roger Croad, the county councillor responsible for the service, said: "It is not a done deal.
"We need to make some reductions but if people have got some better ideas then we will listen."
Liberal Democrat opposition leader Des Hannon warned: "Those rural communities are tiny and have very few services of any kind.
"For some people these are absolute lifelines and I am not convinced that this is being taken quite as seriously as it should be."
The council will make a decision in December and any changes will start next year.