Hatherleigh cattle market fire prompts asbestos fears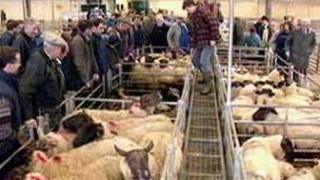 Firefighters have tackled a large blaze at one of Devon's main cattle markets.
The fire broke out at Hatherleigh Cattle Market just after 03:30 BST and destroyed the roof of the main sheep auction building.
About 30 firefighters were sent to the scene and a cordon was put in place around the market following fears of asbestos contamination.
Devon and Cornwall Police and Devon and Somerset Fire and Rescue Service are investigating the cause.
A sheep auction is normally held every Monday at the market.