Farmers call for fox hunting law rethink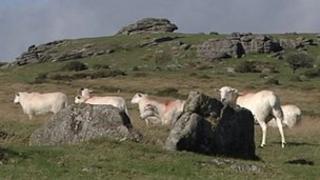 Hill farmers in Cornwall and Devon are calling for fox hunting laws to be relaxed.
They argue the rule that only two dogs can flush out a fox to be shot is not working and attacks on lambs are increasing.
Opponents have warned it is an attempt to get a full repeal of the hunting ban "by the back door".
Since the 2004 Hunting Act it has been illegal for famers to use more than two dogs to flush out foxes to be shot.
Mike Malseed, a hill farmer on Dartmoor, said: "With 800 acres of forestry with two hounds is just a waste of time. It's just totally impractical."
A group of farmers who control fox numbers in Wales published a study claiming a full pack of hounds was twice as effective as a pair of dogs.
Joe Duckworth, chief Executive of the League Against Cruel Sports, said: "This call for a return to the ways and means of hunting pre-ban comes from hunting interests, is for hunting interests.
"Whilst foxes may take lambs in certain circumstances, lambs by no means make up the majority of their diet and we fundamentally question the need to control foxes in this way."
The Prime Minister has previously indicated a free vote on the hunting with dogs ban would take place before the 2015 General Election.
Mr Cameron's spokesman said there was a deal in the coalition agreement to allow for a free vote on the issue.
There will be more on Sunday Politics on BBC1 on Sunday from 11:00 BST.