Council to hold seagull advice night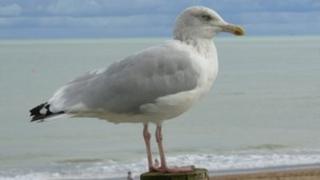 A Devon council will hold a seagull advice workshop to help people who say their homes and livelihoods are blighted by the birds.
East Devon Council said the long hot summer meant seagulls have been a "particular problem" this year.
The authority said it would work with food businesses to keep down the litter that attracts the birds.
It would also issue advice to residents about how to seagull-proof their properties.
Tom Wright, a councillor with East Devon Council, said "We are organising this event as seagulls have been quite a problem and of particular concern to local businesses this year.
"We want to work with local businesses to help them gain a better understanding of what action they can take to reduce the problem.
"I would urge all those on the coast in the food sector in particular to come along and find out more."
The Royal Society for the Protection of Birds (RSPB) said in August it had been inundated with the highest number of calls from the public about gulls for eight years, and 2013's figures were double those for last year.
A cafe in Teignmouth used water pistols in the summer to scare away seagulls intent on stealing food.
Although the birds are protected, Mark Riddick from the Dairy Maid Cafe, insisted a squirt from the water pistols would not harm them, but "shocks" the seagulls enough to deter them.
The seagull event will be held on 31 October at the council's offices in Sidmouth.