Plymouth Airport: Viable calls for council decision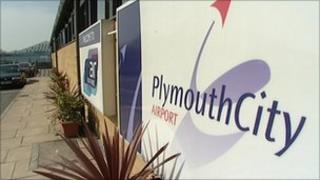 A group that wants to reopen Plymouth Airport has called on the city council to make up its mind about an offer it has made to buy it.
The group, called Viable, said it had put "a cash offer on the table" in excess of £1m.
The council said it wanted an airport in Plymouth but the site was let on a long lease and the leasehold interest would need to be secured.
The last commercial flight departed from Plymouth Airport in July 2011.
Raoul Witherall, Viable's chairman, said: "For some time we have had a cash offer on the table now with the city council for a number of millions based on a valuation by an independent expert.
Five tests
"The council has got to make a decision about the airport, get off the fence and back a proposal one way or another. We've offered the city council a way to take this forward."
In August last year Viable handed a petition to the council, which it said had 37,000 signatures supporting the need for an airport.
In a statement Plymouth City Council confirmed it had met with Viable to discuss its proposals.
The statement went on to say: "We would, like many people in this city, love to see an airport for Plymouth and are keen to protect the land for this purpose.
"We made it clear that anyone interested in running an airport would have to meet the five tests, one of which was that any proposal would not be subsidised by public money."
The council is the freeholder of the land, but the airport is let to Plymouth City Airport Limited (a wholly-owned subsidiary of Sutton Harbour Holdings) on a 150-year lease from 2004.
The council said to secure the ownership of the airport, Viable would need to secure the leasehold interest.