Rescue firm Bristow 'mulls Chivenor presence'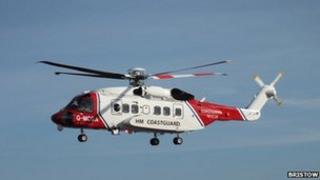 A search and rescue helicopter firm has agreed to consider keeping a helicopter crew at RMB Chivenor in north Devon, according to local politicians.
Under current proposals helicopters will fly from 10 locations around the UK from 2015, with the Chivenor operation going to St Athan in Wales.
Local politicians met the Bristow Group that won the 10-year contract.
North Devon Council leader Brian Greenslade said the firm had agreed to look at a reduced presence at Chivenor.
'Better service'
The £1.6bn search and rescue deal with Aberdeen-based Bristow ends 70 years of search and rescue from the RAF and Royal Navy.
Bristow will replace ageing RAF and Royal Navy Sea King helicopters with modern Sikorsky S-92s and AgustaWestland 189s.
Mr Greenslade said after the meeting: "They have agreed to do follow up work and come back to us.
"The new aircraft has got better performance but if one of those new aircraft was based at Chivenor that would allow us to give a better service locally."
In a statement, the government said the new search and rescue contract "will provide a better overall level of service for the area".
No-one was available for comment from Bristow.