Devon waste energy plants shortlist revealed by council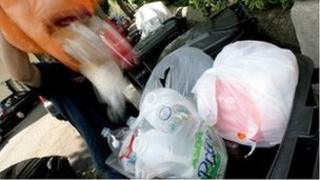 A shortlist of where rubbish could be processed to create power in Devon over the next 20 years has been revealed by the county council.
So-called "waste recovery" plants could be built in Barnstaple, Teignbridge, Tiverton and at sites in east Devon.
The authority hopes to "maximise re-use and recycling of waste" while also "recovering energy".
The plans in the committee agenda will be discussed by Devon County Council on 23 October.
It is part of a 20-year plan by the authority, which is facing rising landfill costs and a shortage of tips.
It is currently unknown what type of "waste recovery" unit could be built at each location.
If approved, the plants could take in a maximum of 80,000 tonnes of waste each year, the agenda has suggested.
About 55% of local authority-collected, commercial and industrial waste is currently recycled.
The council hopes that will increase to 64%, by 2031.