Greenpeace families meet Foreign Office officials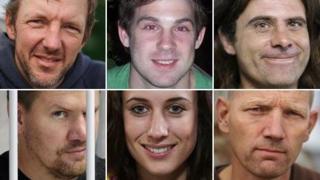 The families of six Britons arrested after a Greenpeace protest at an offshore oil drilling rig have met Foreign Office officials.
Thirty people were detained after the ship Arctic Sunrise was boarded by armed officials, in September.
Andy Bryan, father of freelance video journalist Kieron, said it had been a "positive meeting" and was "very useful".
He added he was hoping for a "political diplomatic solution to the situation".
The crew are being held in the city of Murmansk on piracy charges.
Exeter MP Ben Bradshaw said: "I'm astonished the Prime Minster hasn't picked-up the phone to President Putin.
"He should be making absolutely clear that their behaviour has been completely unacceptable and if these people are not released soon it will do a lot of damage to our bilateral relations and Russia's image in the world."
'Charges are crazy'
On Friday, a court in Murmansk ruled Mr Bryan, originally from Devon, and Philip Ball, of Oxfordshire, should remain in pre-trial detention until 24 November.
His father Andy, from Shebbear, in Devon, said: "Days like today give us a little bit more positivity, a little bit more hope.
"The Foreign Office has assured us they are in talks with other governments... we wanted to know they were doing this."
Kieron's brother Russell said: "The charges are crazy, absolutely ludicrous.
"It's very easy to sit here and talk about Kieron doing a 15-year stretch, but the actually reality of sitting down and thinking about that is heartbreaking."
He added his family had not had a phone call from Kieron for nearly four weeks, which was "unacceptable and we've told the Foreign Office that".
Greenpeace worker Alexandra Harris, also originally from Devon, and second engineer Iain Rogers, from Exeter, have been detained for two months pending a piracy investigation.
Two other British activists, Frank Hewetson and Anthony Perrett are also being detained, having had earlier bail applications denied.
The Foreign Office said it would be inappropriate to comment on an ongoing process and it did not comment publicly on individual consular cases.