Laura Cannon blogs beauty tips for cancer patients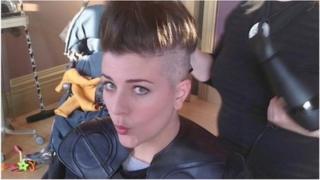 A 23-year-old woman diagnosed with breast cancer is blogging her beauty tips to 150,000 followers.
Laura Cannon's blog, Laura Louise and her Naughty Disease, talks about her treatment and offers advice on how to look good.
Miss Cannon, from Salcombe in Devon, has undergone chemotherapy and a double mastectomy.
She said she wanted to help other young people with the disease, while making her battle "as fun as possible".
Miss Cannon was diagnosed with breast cancer on 22 November last year and soon after the keen writer started her blog.
Posts have included photos of her having her hair cut off after chemotherapy led to significant hair loss.
She said: "I had it done in different styles. I had a mohawk and stuff.
"I wanted to look back and laugh and not remember it as a really sad day."
'No eyelashes'
Now her hair and her eyebrows have grown back and she has been blogging about make-up.
"It was a really nice day to be able to put eyeliner and mascara on," she said.
"It is something that I missed doing when I didn't have eyelashes."
Other posts have dealt with the serious side of the effects of the disease.
"When I was diagnosed I googled stuff and there wasn't much out there for younger cancer patients so I wanted to write some material for them.
"It was quite liberating and it was nice to be so honest and tell the story from a positive point of view.
"There were times when I wasn't, but I wanted to approach it with that kind of positive attitude."
The biology graduate, who loves online shopping, said the blog has also been therapeutic for her.
"It is something to focus on, a nice distraction."
The blog has more than 150,000 followers and the feedback has been universally positive, including from patients as she charts the ups and downs of her treatment.
Now her posts are reflecting her upcoming five weeks of radiotherapy.
She wrote: "If I am honest the thing that is bumming me out the most about this news is the fact that I won't be able to have a hot bath during and for a little while after the treatment."