Devon and Cornwall tenants make thousands of complaints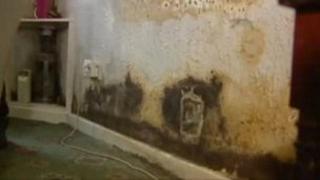 Private tenants in south west England made nearly 9,000 complaints about their conditions over the past four years, according to a housing charity.
About 5,000 complaints were made to Devon local authorities and 4,000 were made in Cornwall, said Shelter.
The charity said nearly half the people renting privately across the South West were in poor housing.
The charity is launching a campaign to get local councils to take action against rogue landlords.
According to Shelter, 45% of people in the private rented sector - about 380,000 people - in the South West live in poor housing.
Cracks in walls
Shelter obtained its figures from the Survey of English Housing, which describes a decent home as one that is wind and weather tight, warm, and has modern facilities.
Unfit or poor conditions are typified by overcrowding, housing in need of substantial repairs, or structurally unsafe properties. Any housing which is damp, cold or infested - or lacking in modern facilities - also falls into the category.
Tenant Grace Pye, 75, from Camborne in Cornwall, ended up in a legal fight with her landlord over poor conditions.
"It was very damp with big cracks in walls which were black with mould," she said.
She is now in new accommodation, but is still battling to get her deposit.
Eviction fear
Cornwall Council said in a statement that it recognised "the increasing reliance" on private sector accommodation to meet housing needs in Cornwall.
"Individuals and families renting in Cornwall deserve to live in good quality, safe properties and Cornwall Council is taking positive steps to drive up standards," it said.
Ian Byworth, of Shelter in Devon and Cornwall, said: "The private rented sector is overheating.
"There is so much demand because there are not enough homes to go around and that means some rogue landlords take advantage.
"They are not doing repairs, not keeping properties in a good state and sometimes harassing their tenants."
He said tenants were very often reluctant to take action against landlords because they feared eviction.
And he advised tenants to complain to their local authority, which has powers to enforce standards.
Torbay Council said it would take enforcement action against rogue landlords.
Last year, the authority earmarked £100,000 for the council's Community Safety Department for enforcement.
A spokesman for the National Landlords Association said: "There are rogue landlords who operate under the radar.
"All NLA members are good landlords so tenants should check if landlords are accredited with us or another landlords association."