Elderly man drives wrong way on Devon dual carriageway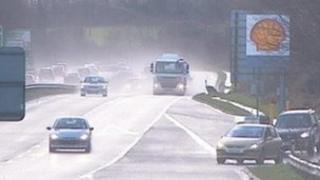 An elderly man had a lucky escape after driving the wrong way down a dual carriageway in the dark.
The man was seen driving a Vauxhall Astra on the A38 towards Plymouth in Devon on the Exeter-bound carriageway.
Devon and Cornwall Police said the "confused" driver had been travelling along the 70mph road for about 10 minutes before he stopped the car on Monday night.
He was trying to head towards his home in Looe, Cornwall.
A police spokesman said that a number of cars were sent to the A38 after the driver, whom he described as "elderly", was spotted near South Brent.
"Within minutes, police were on the scene and managed to get to the vehicle which is believed to have stopped on the hard shoulder.
"There's no suggestion this chap had been drinking or anything like that, he seemed a little confused," the spokesman said.
Police took the man home, along with his car, and said they would follow up the incident with the DVLA and the man's GP.