Bideford farmers' market anger at Torridge Council over 'covenant'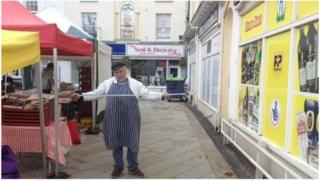 Traders at a farmers' market have been told they cannot put stalls on a 3m (10ft)-wide section of a market square because of a "special covenant".
Stallholders said it would mean the fortnightly market in Bideford, Devon, being cut from 10 stalls to seven - and blamed Torridge District Council.
The council issued a licence for the market on Jubilee Square but now says it cannot encroach on land at the edge.
The council's leader admitted there had been "slight error in expectations".
'Good value'
Jubilee Square was refurbished this year by the district council, the town council and the county council.
The district council agreed the farmers' market could take place there twice a month in the winter for a charge of £100 a month.
But after two markets took place the stallholders received a letter from the council saying "no activity" was to take place on a strip of land next to a McColl's store and apologised "for any inconvenience".
Stallholders blamed the council for the error.
Dan Garnett, chairman of Bideford Farmers Market Association, called it a "fiasco".
He said: "We want to find a way forward, but we are pulling our hair out over this."
Council leader Phil Collins said stallholders were still getting good value for money with the rent they paid.
"Over the past year officers have been working their socks off to get this working," he said.
"There's no need for a reduction in the number of stalls. They just have to squeeze in a little bit and just reorganise.
"There has been a slight error in expectations.
"It will be sorted out in due course."