MoD pulls out of landing exercise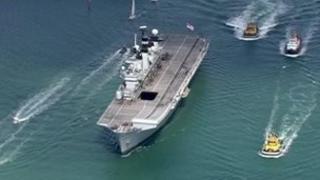 The Ministry of Defence has pulled out of a major landing exercise involving 1,600 Royal Marines off the Horn of Africa.
Ten Royal Navy ships were due to land the marines, from Plymouth-based 3 Commando Brigade, with French forces at Djibouti as part of the Cougar 13 training exercise.
The Sunday Times alleged this was cancelled amid claims the MoD took the decision to save money.
The MoD has denied this is the case.
In a statement it said: "While the intent was to exercise with French forces in Djibouti as part of an ongoing programme of engagements, agreement could not be reached on some administrative issues in time.
"It is not true to suggest that these issues related to insufficient funds or a lack of fuel."
'Programme of exercises'
Cougar 13, the Royal Navy's Response Force Task Group operation, includes four warships and six other vessels - carrying men from 42 and 30 Commando.
The ships set sail from Portsmouth and Plymouth in August.
They were deployed to the Mediterranean and east of Suez where the MoD said it has been "showcasing the ability to project a highly effective UK maritime component around the world".
During the three-month deployment the group has completed a series of exercises with partner nations.
At the end of August, hundreds of Plymouth-based Royal Marines landed in Albania for a series of exercises.
After moving through the Suez Canal in September it was planned that the warships would continue on to Djibouti at the end of this month, but the Sunday Times said military chiefs were "suddenly" told last month that was being cancelled.
The MoD said the task group "continues to conduct a full programme of exercises and defence engagement".