Team GB paddleboarders chosen at event in Devon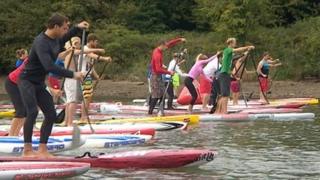 The country's best stand-up paddleboarders have been crowned.
Ollie Shilston, from Cornwall, and Marie Buchanan, from Devon, won their respective races at an event organised by the British Stand Up Paddle Association (BSUPA) in Kingsbridge, Devon.
They will now represent Great Britain at the World Championships in Nicaragua in February.
The sport has been described as a cross between canoeing and surfing.
About 40 competitors tried their hand at flat water racing on the Kingsbridge estuary following last weekend's wave championship at Watergate Bay in Cornwall.
Simon Harrow, chairman of BSUPA, said: "We chose the location for the British finals of the stand-up paddleboard race series, because of the beautiful climate we have - as you can see today, wind, rain - but there is plenty of shelter from wind, it is a beautiful estuary and absolutely appropriate for this type of racing."