Devon business to benefit from China's rising costs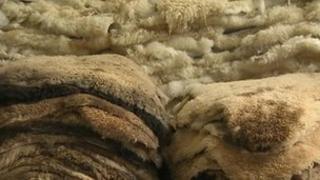 A traditional manufacturing company from Devon is set to benefit from rising costs in China.
Eastern Counties Leather, based in Cambridgeshire, previously had a range of sheepskins turned out in east Asia, but is moving its operation to Devonia Sheepskins at Buckfastleigh.
The firm said China was better value for manufacturing, but rising costs there had diminished its advantage.
And Devonia say costs are not the only benefit of moving production to the UK.
Eastern Counties Leather had been sending its sheepskins out to China and then shipping them back to the UK once they were tanned.
Ben Rudkin, from the Devonia Sheepskins tannery, said: "We're able to get our customers to come from London or wherever they need to come from, to come down and actually look at the skins themselves and say 'Well this is exactly what I'm looking for, but can we tweak it this way and that way?' and then they take what they need."
'We can compete'
Economists and business analysts say there is a change under way in the UK's relationship with China - particularly when it comes to more basic types of manufacturing.
Nigel Jump, of Strategic Economics, said this is something that always happens sooner or later with developing economies.
"As their wages get closer to ours, the differential in cost that we have suffered from for the last 10 years starts to reverse and transport costs and other costs become more important, so we can compete with those companies now," he said.
But while sheepskin production is coming back to the UK, other companies are finding they still need to work with east Asia companies.
In Plymouth, electronic design and manufacturing company Plessey Semiconductors says it has had a technological breakthrough, with global potential.
Its researchers have come up with a new way of making LEDs for lighting at low cost.
'Joint venture'
Currently, the most advanced part of the manufacturing is being completed in Plymouth, but the firm then ships its product out to factories in China and elsewhere for other components to be added.
This is a common method in mass production of goods for global export, but Plessey now wants to go a step further in order specifically to sell into China as a market in its own right.
It is in talks with Chinese industrialists about setting up joint-venture production facilities inside China.
The company wants to be able to sell its lighting into China's fast-growing cities, but experience suggests the Chinese market is difficult to export goods to, from the west.
CEO Michael LeGoff, admits the problem is the technology will inevitably be copied.
"They will take the product initially, but eventually they will form their own processes and their own technologies," he said.
"What Plessey's strategy is, is to go there with a joint-venture partner, typically a state-owned enterprise, like we have done before with other technologies, and build a factory for the Chinese market."