Dartmoor Ten Tors: Routes changed 'to improve safety'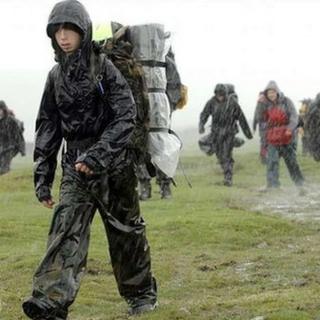 Dartmoor's Ten Tors challenge is to undergo its most significant overhaul in 30 years as Army bosses attempt to improve safety.
The changes next year will see fewer river crossings and should reduce the need for air support in bad weather.
It comes after a mass evacuation during storms in 2007, the same year schoolgirl Charlotte Shaw died after falling into a river while training.
The Army has denied that the changes have been driven by budget cuts.
The annual event involves young people aged between 14 and 19, in teams of six, trekking up to 55 miles (89km).
'Remove the dangers'
Brig Piers Hankinson, director of Ten Tors, said: "We want these teams to be self-sufficient, we do not want to intervene at the river crossing points.
"Therefore I want to remove the dangers and [the risk of] the event being cancelled because of heavy rain."
Rob Steemson, from Dartmoor National Park Authority, said: "Over the last few years there have been many incidents and problems caused by teams trying to cross rivers which is exacerbated during and following heavy rainfall.
"This has at times challenged the supporting back-up provided by the Ministry of Defence and its partners."
In March 2007, Charlotte, 14, was helping a friend to cross the Walla Brook, a stream which had been swollen by torrential rain, when she fell in and was swept away. She died the next day in hospital.
Brig Hankinson said: "We continue to improve the event to avoid such circumstances happening during the Ten Tors event."
He said the army was not responsible for teenagers during training exercises for the challenge.
In April, Charlotte's mother lost her appeal for £350,000 damages against her daughter's school, Edgehill College (now Kingsley School) in Bideford.
Mr Hankinson said the changes would be introduced in 2014 and the routes had not been altered since 1984.
"Teams will have to navigate between a series of check points and tors in a way they haven't had to do previously, making it harder."
"They [teenagers] will still be going on to the high tors, experiencing the wild moor camping and trekking - if anything it will be more challenging."
Neil Cameron, who runs the Ten Tors team at Kingsbridge Community College, in south Devon, said: "It always is a worry when you're sending students out on Dartmoor - it has the potential to be not very nice.
"I think it's a good idea to review the routes on the grounds of safety.
"But they'll still be walking up to 55 miles and training for the same amount of time."
Brig Hankinson said that the check points - where participants can leave the event - would be closer to the moor's roads to reduce the dependency on helicopters if the weather was to deteriorate.
In 2013, the poor weather restricted the use of air support during the challenge.