Torquay Alpine Ski Club celebrates 50 years of dry slope skiing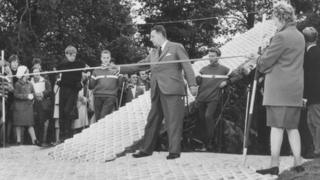 The UK's first artificial ski slope has celebrated its 50th anniversary.
The Torquay Alpine Ski Club opened on 5 October 1963 and is believed to be the oldest surviving dry slope still operating in the world, the club said.
Hundreds of thousands of people have learnt to ski on the slope, which provided accessible and affordable skiing to the general public for the first time.
Since then nearly 100 slopes have been built all over the country.
To celebrate, three times Olympian and world cup ski racer Chemmy Alcott and Olympic ski jumper Eddie the Eagle Edwards visited the slope before attending an anniversary dinner.
They were joined by members of the club who were present at opening of the slope and who were part of the first ever group to qualify as UK Artificial Slope Ski Instructors.
'Visionary pioneers'
Ralph Howle, chairman at the ski club, said: "It's been an absolutely amazing achievement.
"It's been a fantastic day for the club and for all those people involved in the creation of the club back in 1963, those visionary pioneers that said 'Let's create a dry ski slope here in Torbay'."
The all-year round slope was built at Pontins Barton Hall after the particularly harsh winter of 1962-63.
The heavy snow had encouraged dozens of skiers in Torbay and Exeter to make the most of the conditions and indulge themselves in the sport.
When the snow finally melted, enough local interest had been created to prompt an open meeting at which the feasibility of building an artificial ski slope was discussed.
The location for the slope was provided by holiday camp owner Fred Pontin, who handed responsibility for its operation to the Wessex Ski Association, now the Torquay Alpine Ski Club.
A grand opening ceremony saw demonstrations by members of the British Ski Team and European Ski Instructors from the Swiss Resort of Champery.