Channings Wood prisoners creating quarry garden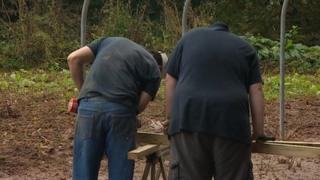 A community garden is being created at a disused quarry in Devon by a group of prisoners.
The aim of the LandWorks project is to give inmates at HMP Channings Wood skills to help them with life on the outside when they are released.
It has been set up by the Dartington Hall Trust in conjunction with the prison and Devon and Cornwall Probation Service.
The Quarry Field garden is on the Dartington Hall estate.
"It's about giving ex-offenders a chance to re-skill so they can try to break the cycle of reoffending to give them a chance to integrate back into society," Dartington Trust's chief executive Vaughan Lindsay told BBC News.
"It's the sort of thing that I think can made a real difference."
Chris Parsons, project manager, said the garden was a "lovely safe haven" but "not quite the real world".
"It is absolutely a place to help you find your way into life - to feel that you are okay, you're not worthless and you can be accepted for who you are by people who frankly a few months ago might as well have lived on a different planet," he said.
The work is being done by three inmates who are due for release and an ex-offender who is currently on probation.
Re-offending reduction
"The transformation in the guys is fantastic," Mr Parsons said.
"They've put a huge amount of work into this and a huge amount of effort and I'm extremely proud of what they've done."
According to figures from the Ministry of Justice, about 47% of adult prisoners are reconvicted within a year of release and nearly half of convicted offenders have no qualifications.
"The world beyond LandWorks will of course be difficult… but if we can reduce the belief that society hates you and help you to believe in yourself, it is possible that you can deal with the difficulties ahead," Mr Parsons added.
Once the garden is completed, it will be open to the general public and will continue to be maintained by inmates from HMP Channings Wood.