Plymouth Citybus axing four of its 10 school services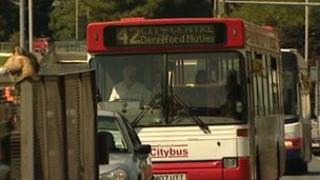 The "phenomenal" cost of running a school bus service in Plymouth has been blamed for an operator's decision to axe a number of routes.
Plymouth Citybus confirmed four of its 10 routes will stop on 1 November, although one new "combined" service will be introduced.
The withdrawal of the 104, 109, 115 and 142 routes will affect pupils at a number of the city's secondary schools.
Devonport High School for Boys (DHSB) said it was "worrying".
Peter Oliver, the commercial manager at Plymouth Citybus, said pupils would still be able to use the company's normal bus services.
"A dedicated school bus service is phenomenally expensive to run, because it only makes two trips a day" he told BBC News.
"We've tried unsuccessfully to recruit part-time drivers for the school runs.
"What are we supposed to do when we have buses and full-time drivers sitting around for most of the day doing nothing.
"It's simply not commercially viable."
'Disconcerting decision'
Mr Oliver said a new 103 school service would combine two being withdrawn from the Plympton area and would service many, although not all, the schools previously served.
He added Citybus had just increased its fleet with 20 new double-deckers, so there would be "ample" capacity for school pupils on scheduled city routes.
In April, Citybus said it intended to stop its subsidised school services because of increasing fuel costs and a lack of funding from the city council, however it withdrew the plan two months later.
Kieran Earley, head teacher of DHSB, said: "We seem to have an annual issue with threatened service withdrawal and it is worrying and disconcerting for users.
"I understand the profitability argument but would also have thought that providing a reliable service was a long-term financial investment, especially for an emerging youth market.
"We'll be checking our facts and looking into the detail next week."