Torbay Hospital doctor Suhail Ahmed jailed over secret photos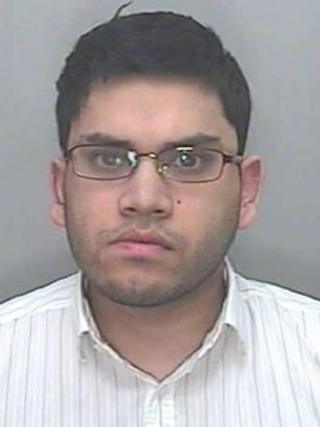 A junior doctor who sexually assaulted and secretly took photographs of female patients has been jailed for 18 months.
Suhail Ahmed, 28, of Cyncoed Road, Cardiff, used a hidden mobile phone camera to take over 100 images during examinations at Torbay Hospital.
He pleaded guilty to 11 counts of voyeurism and two counts of sexual assault by touching.
Exeter Crown Court heard his victims had been left "devastated".
The South Devon Healthcare NHS Foundation Trust (SDHCT), which runs Torbay Hospital, said it was appalled by Ahmed's "abhorrent abuse of power" and reassured the public there was no ongoing concern or risk to patient safety.
The trainee surgeon, who was working in the hospital's A&E department, was suspended by the General Medical Council last July.
Ahmed touched the women as he removed their clothing in order to get a better view of their bodies for his mobile phone camera.
'Extreme pain'
He carried out intimate examinations - claiming his mobile phone was being used to time their heart rate.
Some of his patients were in extreme pain or recovering from surgery at the time of his attacks, between March and June last year, the court heard.
He was caught and suspended by the hospital when two women separately made complaints about their examinations.
A subsequent police investigation uncovered 110 images of patients at the hospital uploaded on to his computer from his mobile phone.
Ahmed initially denied any wrongdoing but later admitted the offences in police interview.
The court was told the victims had been left devastated by their ordeal, with one unable to leave her house.
Sentencing Ahmed, Judge Francis Gilbert QC said: "Your victims describe their distress at what you did and the continued effect it has had upon them."
'Career ruined'
Defending, David Martin, insisted the photographs had not been distributed or shown to anyone.
"Here is an individual who has in every way ruined his career," Mr Martin said.
"It was a tremendous achievement to get to where he had and it has been thrown away in this ridiculous behaviour."
Ahmed was also ordered to sign the sex offenders register.
After the sentencing Det Ch Insp Nick Wilden, of Devon and Cornwall Police, said: "The behaviour of Ahmed can only be described as one of the most despicable breaches of trust perpetrated by a doctor imaginable."