Grizzly task for Devon sculptor Nick Bibby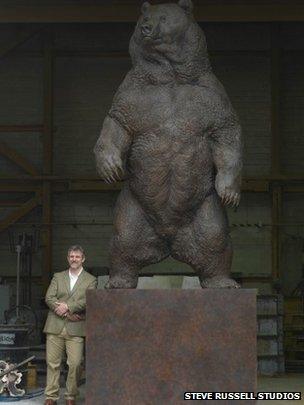 An artist has finished what is believed to be the biggest bronze sculpture of a grizzly bear made in Britain.
Devon sculptor Nick Bibby spent 3,500 hours making the life-size Kodiak bear at his studio near Marldon in Devon.
The 11ft (3.6m) high bear, known as Indomitable, was commissioned by Brown University in Rhode Island, US, and weighs 2.3 tonnes.
Mr Bibby, who has been a sculptor for 20 years, also creates smaller animals such as wrens.
"Grizzly bears are truly my favourite animal so to be given the opportunity to sculpt the most exciting challenging and fulfilling sculpture of my career so far has been an absolutely wonderful experience," he said.
"Early in the process, it really hit me as I looked at the sheer bulk of the bear looming above me just what a mammoth project lay ahead.
"Even working flat out on a good day I could only sculpt a couple of square feet of the intense fur texture, such was the concentration and focus required to produce that level of detail."
More than 100 people have been closely involved in moulding, casting and finishing the sculpture.
And Mr Bibby will be needing them again because he has already been commissioned to create another grizzly.
Indomitable will be shipped from Pangolin Editions foundry in Stroud, Gloucestershire, where it was cast, to the US at the end of the week.
Related Internet Links
The BBC is not responsible for the content of external sites.