Devon flood alerts issued by Environment Agency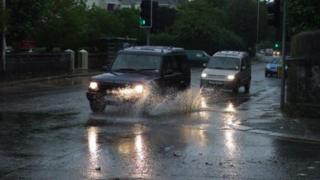 Flood alerts across Devon have been issued by the Environment Agency following torrential rainfall.
The alerts are for the River Plym and Tory Brook, the rivers Tavy and Walkham, the River Teign area, the River Dart and the South Devon Rivers.
The agency said flooding was possible and low lying land and roads could be affected.
The Met Office has issued a yellow warning of rain for the south-west of England until 08:00 BST on Friday.
Plymouth City Council said its workers had been dealing with more than 70 incidents of surface water on the city's roads.
Roads affected in Plymouth included Gdynia Way, which was temporarily closed, Sutton Road, Embankment Road and Outland Road.
The rain was caused by a storm known as a Mesoscale Convective System, which started in the Atlantic, just west of Portugal.
In Plymouth, 20mm of rain was recorded in just two hours, inundating surfaces and leading to numerous incidents of surface water flooding across the city.