Devon sheep rustling: Police start fightback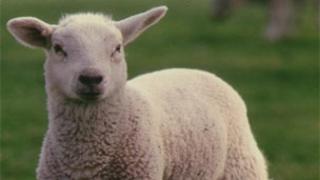 Sheep worth more than £30,000 were stolen from farms in Devon over a two-month period in the summer, according to Devon and Cornwall Police.
Teignbridge, north Devon, Ashburton and Dartmoor farmers were among those targeted.
The theft of 98 rare New Zealand highlander sheep cost one farmer £15,000.
No arrests have been made and police believe the sheep were sold on the black market.
Insp David Hammond, of Devon and Cornwall Police, said: "Our analysts noticed throughout July and August that we'd had a number of thefts of livestock, primarily sheep, in the Teignbridge area and in parts of Devon.
"We started to look at what we could do to try and work with farmers and with the National Farmers' Union to try and minimise and manage that problem."
In an attempt to prevent more thefts, police said that next year, after the lambing season, they would be randomly stopping more vehicles carrying livestock at night.
'Costing a fortune'
Farmer Mike Tewson had 98 high-value New Zealand sheep taken from his Devon farm.
He said: "It would have to be someone with stock knowledge or a farmer, it would have to be someone involved with it, or a farm-related person.
"It's quite galling because generally farmers and people in the farming industry are quite honest, it's a hard working industry, and so that's quite disappointing from our point of view."
He said that anyone trying to steal a high number of sheep would need at least two or three people and possibly a "good" sheepdog.
The National Farmers' Union said the majority of stolen livestock went straight into the food chain and the scale of thefts was causing concern.
Ian Johnson, from the NFU, said: "In 2012, £500,000 of livestock was rustled. It is costing farmers a fortune.
"What we want them to do is be extra vigilant, we want them to report anything uncharacteristic, any vehicle movements they're not sure about, any vehicle they don't like the look of, doing things they don't like the look of.
"We want them to lock their gates, hang their gates with hinges so the gates can't be taken off, and preferably keep the stock away from roads."