Childhood disability research funded for six more years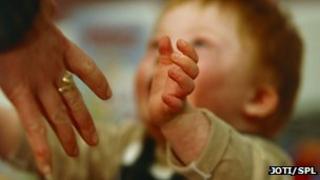 Devon researchers specialising in childhood disability have secured funding for their work until 2019.
The Peninsula Cerebra Research Unit (PenCRU), based at the University of Exeter Medical School, will get nearly £800,000 from national charity Cerebra.
Their work includes evaluating peer support for parents of disabled children.
It also reviews complementary therapies and promoting positive attitudes towards disability in schools.
PenCRU works with families across the county, encouraging them to become involved through a Family Faculty group.
'Empower myself'
Julia Melluish, from Paignton, is the mother of six-year-old Harrison, who has cerebral palsy, is registered blind and has severe developmental delay - a type of learning disorder.
She said: "When you become a parent to a severely disabled child, you lose yourself. You find yourself suddenly immersed in a world you know nothing about.
"When I found out about PenCRU, I had just reached a point where I had stopped feeling so desperate.
"I wanted to learn everything I could to empower myself, and to become a better parent to Harrison.
"Being part of PenCRU meant I was using my brain, and I was regarded as having expert knowledge. That was so important for me personally."
PenCRU will receive £796,303 from Cerebra - a national charity for children and young people with neurological conditions.
Dr Chris Morris, who heads the PenCRU team, said: "We are looking forward to using the funding to continue to build the partnership we have developed with families and to increase the number of families."
As well as support from Cerebra, PenCRU is also supported by the NIHR Peninsula Collaboration for Leadership in Applied Health Research and Care.