High Cross House 'may close' after National Trust ends lease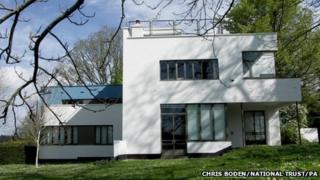 A property managed by the National Trust could close its doors to the public due to a lack of visitors.
High Cross House in Dartington, Devon, was leased to the charity for 10 years in January 2012.
However, the trust has activated a pull-out clause in the lease after the house attracted 11,000 fewer visitors than it needs to break even.
Dartington Hall Trust, the house's owners, hope to "maintain access" after the lease ends in December.
In 2012, 21,000 people visited the house, but the trust needed 32,000 to visit for it to be "financially sustainable".
A spokesman said experience had shown that "new properties normally have high visitor numbers in their opening year due to significant levels of publicity and member curiosity and drop significantly in subsequent years".
'Important architect'
Vaughan Lindsay, chief executive of the Dartington Hall Trust, said the organisation would "now be looking at alternative ways we can share this remarkable modernist building".
"We are in active discussions with a number of organisations about future use of the building and retaining some public access," he said.
The property was designed by Swiss-American architect William Lescaze in 1932 and is considered to be one of the UK's best examples of modernist architecture.
Jeremy Gould, Emeritus Professor of Architecture at the University of Plymouth, said the house had "brought to Devon one of the most important 20th Century architects".
"It is one of the first 'modern movement' houses in this country," he said.
"Modernist houses are very London-centric and they get rarer and rarer as you move away from London. It was a brave move of the National Trust to take it on at short notice.
"It would be great if there was any way of keeping it open to the public."
The National Trust's lease will end on 29 December.