Royal Marine corporal admits ill-treating Devon recruits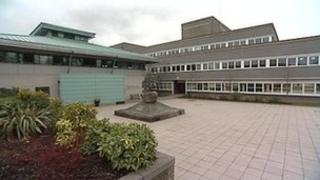 A Royal Marine corporal has admitted ill-treating new recruits, including hitting one in the groin with a stick.
Cpl Peter Clark pleaded guilty to three offences of ill-treating subordinates at the Commando Training Centre in Lympstone, Devon.
A court martial at Portsmouth Naval Base heard he used a pace stick, used by drill instructors to set a marching pace, to hit the recruit in the testicles.
Sentencing was adjourned to Tuesday.
Clark, 39, admitted hitting Marine Recruit (MR) Joshua Croxford with the stick on 30 June last year.
He also admitted two earlier incidents, in which he grabbed MR Matthew Scott round the throat on 19 May and hit MR Adam Lushman in the face with a pair of combat boots on 9 June.
The corporal was due to stand trial on 14 charges, but following his three guilty pleas, the prosecution offered no evidence on the other charges.
Judge Advocate Gen Jeff Blackett formally found him not guilty of those 11 charges.