Red-backed shrike breeds at new 'secret' Dartmoor site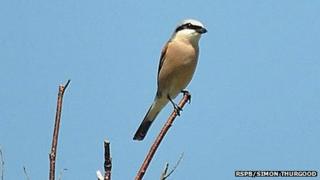 A bird almost driven to extinction in Britain has successfully bred again on Dartmoor.
The red-backed shrike, which used to be found in hay meadows, hedges, scrub and heath across southern England, was lost as a breeding species in the 1990s.
The bird had bred on the moor in 2010 and 2011, however last year there were no fledglings.
The RSPB said a nesting pair fledged two youngsters at new undisclosed site on Dartmoor this summer.
Spokesman Kevin Rylands said: "This is now the fourth year they have returned to Dartmoor, but they failed to breed last year - probably due to the awful weather.
"A lone male visited the previous breeding site in May this year, but failed to find a mate.
"Fortunately though, a pair was found at a new site in June and this bodes well for the future of the species on Dartmoor."
The birds have been under close watch at the secret location to guarantee their safety.
The project is being managed by the RSPB with support from Devon and Cornwall Police wildlife unit, Natural England, Dartmoor National Park Authority, Devon Birds, the Forestry Commission and Dartmoor Study Group.
Mr Rylands said the habitat and availability of prey on the moor had contributed to the birds' breeding success.
Red-backed shrikes are commonly known as "butcher birds" due to their eating habit of catching small creatures and impaling them on sharp thorns or barbed wire.
"We hope red-backed shrikes will continue to re-colonise Dartmoor, but that is dependent upon birds returning next year, finding suitable habitat and not being disturbed," he said.